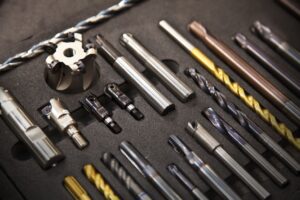 Drilling stainless steel requires quite a bit of strength, even when you're using a drill.
The reason for this is that, despite being a comparatively soft type of metal, stainless steel is prone to a phenomenon called 'work hardening.'
This is where a metal's hardness increases where heat (friction) is applied, making it harder to cut through.
Therefore, if you have a stainless-steel-drilling task on your hands, it's important to select the right drill bits for the job.
Using a drill bit that isn't designed for use on stainless steel or hard metals can result in overheating, damage to your drill bit or project, or simply an ineffective drilling experience.
But don't worry, because we're here to introduce you to the top 5 best drill bits for stainless steel on the DIY and tool market today!
Best Drill Bits for Stainless Steel Reviews

If you're looking for the best stainless-steel-friendly drill bits that money can buy, look no further than Neiko's Titanium Step Drill Bit Set.
A wide range of sizes is available in this set, which may seem surprising since it only contains three pieces. However, these drill bits feature a two-flute design with a 135° split point.
A two-flute design is effective at clearing debris during operation, while the degree of the split point makes for precise drilling without sideways movement. This type of construction results in an incremental widening of the drill bit from tip to base, meaning that a single bit can cater to multiple sizes.
Thus, the three bits in this set cover the spectrum of sizes from 3/16 to ¾, with sizes marked down the sides.
Thanks to the steel construction and titanium coating, these bits are perfect for drilling into stainless steel because they have a high heat tolerance and won't be easily worn down or stripped.
However, it can be tricky (especially on first use) to work out the precise point at which to stop drilling because it's difficult to focus on the engraved measurements and keep an eye on your material at the same time. Therefore, we recommend applying a small piece of tape to your drill bit at the correct size.
The tri-flatted shank of each drill bit allows them to fit comfortably and securely into drill units without slipping out of moving from side to side.
Pros
Steel and titanium – Durable and heat-resistant
135° split point – Built for precision
Two-flute construction – Effective debris-removal
Tri-flatted shank – Fits securely and firmly into chucks
Cons
Can be difficult to use – Extra visual markers may be required

Our runner up is the DeWalt Cobalt Drill Bit Set. This set consists of 14 pieces, each catering to a different size, so your purchase will get you drill bits for sizes 1/16 all the way up to ⅜.
These drill bits are made of cobalt, which is an incredibly strong, wear-resistant material. Therefore, it's perfect for use in drill bits for stainless steel.
Like our top overall pick, these drill bits feature split tips, so they're effective at pushing shavings out of the way while in operation. These bits are also constructed to a pilot point, which prevents the tip from shifting across the surface before the initial hole can be made.
Thanks to the no-spin shanks on these drill bits, you'll be able to fit them into your drill chuck without worrying about them falling out or counterproductively moving during operation.
These drill bits are designed for long-term use. However, there have been some reports of the smaller bits shedding or snapping easily.
Pros
Cobalt – Highly wear-resistant
14 pieces – 14 sizes
Split tip – Effective debris-clearing
Pilot point – Prevents walking
No-spin shank – Firm attachment
Cons
Smaller bits are less durable – 1/16 size may need replacing

The best value drill bits on the market for stainless steel are the Metric M42 8% Cobalt Drill Bits.
Because these bits are made from cobalt steel, they're resistant to overheating and chipping, which is ideal when you're working with stainless steel.
This 19-piece set covers sizes from 1 mm to 10 mm, so you'll never be without a drill bit of the right size for your stainless steel project.
These drill bits are made according to a 3-step design, which allows each bit to perform faster than average without the issue of walking. This is partially due to the 135° split point, which begins drilling at a lower rate immediately to pinpoint the exact area for penetration.
While the Metric M42 drill bits come in a plastic storage box, the box isn't very durable, so you may need to purchase a separate container for long-term use.
Pros
Cobalt steel – Heat and chip-resistant
19 pieces – 1 – 10 mm sizes
135° split point – Sharp and precise
3-step design – Fast drilling without walking
Cons
Fragile container – Not for long-term storage

With the Bosch 21-Piece Cobalt Drill Bit Set, you only get a couple more bits than you do in our value pick. Initially, this might not seem like a great deal considering the price, but what this set lacks in budget-friendliness, it more than makes up for in premium quality.
These cobalt drill bits are extremely tough and won't struggle to drill through stainless steel. They've been specifically designed to cope with high temperatures, so you won't have to worry about damaging them through intensive use.
The 21 pieces in the set cover sizes 1/16 to 1/2 for a wide range of applications.
Bosch has used a split-point tip to ensure clean, precise drilling without skating or walking. Plus, because they've been manufactured with three-flat shanks, these drill bits fit tightly into drill chucks for effortless, stress-free use.
The case, however, can be tricky to use in terms of getting the bits in and out, which may slow down your work.
Pros
Cobalt – Hard-wearing and durable
21-piece – Sizes 1/16 to 1/2
Three-flat shank – Secure chuck fit
Split-point tip – Minimizes walking and instability
Cons
Unergonomic case – Difficult to remove and replace bits

Finally, if you only have one drilling task to complete on stainless steel, you may just be looking for an individual drill bit that's up to the job. If that's the case, we recommend the TCT Drill Bit from UK Drills.
This drill bit has been specifically designed for use on stainless steel, so you know it's built for the task at hand.
It's made of high-speed steel, with a tungsten carbide tip. This combination is ideal because tungsten carbide has a very high melting point and exceptional durability.
Similarly, high-speed steel can withstand temperatures up to 600°C and cuts quickly without breaking.
However, this drill bit is built with a round shank, which will be more prone to spinning than hexagonal shanks.
Pros
Designed for stainless steel – Purpose-built
High-speed steel construction – Fast and temperature-tolerant
Tungsten carbide tip – Heat and wear-resistant
Cons
Round shank – May spin during use
Buyer's Guide
Choosing the Best Drill Bits for Stainless Steel
Before you go, let's brush up on some of the key features to look out for when choosing a drill bit for stainless steel!
Material
The best materials for drilling stainless steel are cobalt, cobalt steel, or titanium nitride (in coating form).
Cobalt is both wear-resistant and sharpenable, so you don't have to throw the bits away when they eventually wear down.
Similarly, titanium nitride resists friction, heat, and rust for long-term functionality.
Point
The best type of point for stainless steel drilling is a split point – ideally, at 135°. This point angle helps to penetrate the metal immediately to ensure precision and minimise walking.
Flute
We'd recommend a two-flute drill bit for stainless steel, although this is not essential.
Two-flute bits are generally better at clearing shavings out of the way during use, which is practical and safer when it comes to having clear visibility of your task.
Shank
Generally speaking, we would recommend using drill bits with tri-flatted shanks for stainless steel work because these shanks are less likely to slip or move around in your drill chuck than round shanks.