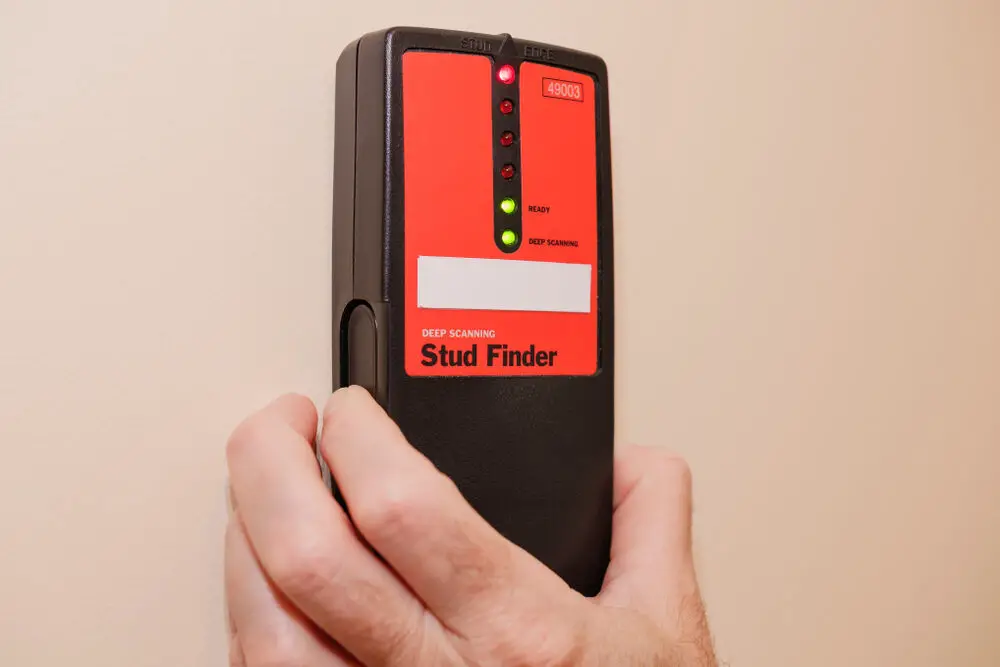 There's nothing worse than cracking on with some DIY only to discover you've accidentally smashed through a crucial stud wall.
If you go barrelling into a load-bearing wall unknowingly, the entire room could give way!
Plus, if you are going to be hanging something up on your walls, like a heavy painting or a shelf for instance, it is best to find a stud to hang it on.
This will ensure nothing happens to damage the structural integrity of the wall once the item is hung!
Don't worry – it's not a big deal! Just get yourself a stud detector: they are relatively affordable, easy to use, and could save you a lot of hassle in the long run.
You don't even need to research which one is best, as we have done that for you too.
Here are our reviews:
Best Stud Wall Finder
For any tradesperson or labourer, you can't do better than this digital detector from Bosch, a reputable brand that most would be familiar with. It might be on the more expensive side, but when you are working for clients, you need perfection.
With three different settings for picking up metal, drywall and live wires, optimised to perform successfully as a cable and a stud detector, this is a fantastic pocket-sized gadget. There should be one in every toolbox across the entire UK!
Thanks to an LED colour indicator, it's immediately clear whether you've found anything – red means an object has been detected, yellow suggests a nearby object and green means there is nothing in the vicinity.
Pros
Three-in-one detection: metal, drywall, and live wires
Comes with a protective bag and hand strap free of charge
D battery included
Cons
On the expensive side compared to other detectors listed
QLUUEs take on the Stud Detector does five, yes, five detecting tasks, accurately and rapidly. Automatically calibrated and using an intelligent microsensor chip, it can find studs, joists, pipes, live wires and more, behind walls, floors and ceilings.
A beam finder has five different scanning modes, allowing you to locate wooden beam to 1.5 inches and ferrous metal up to 4.72 inches. Most wall scanners can only detect up to 2.36 inches deep.
Now featuring an upgraded graphic LCD and buzzer. With a spacious LDC display that shows the detection mode, depth, signal strength, and battery level. When an object is detected, the signal strength and intensity of the beep guide the proximity to the target.
Calibration is effortless- simply lift it into the air, press the metal detection button and it will automatically calibrate. Additionally, if there is no activity for approx 5 minutes, the device will automatically shut down.
Pros
Accuracy, depth range and build quality
Incredibly simple to use
Design, battery life and overall performance
Cons
Some have mentioned difficulty in locating electrical cables.
Boasting five different scanning modes, including Stud Scan, Metal Scan, AC Scan and more, there are visible and audible cues to help you find what you are looking for when you use this multifunctional detector from FOLAI.
Working great on a variety of surfaces, from papered walls to ceilings and wooden floors, the LCD screen and clear Beep Signal Alert have no trouble locating those all-important studs. It even calibrates itself for you every time you use it!
Each product comes with a money-back guarantee, totally hassle-free, so if you are not satisfied with your purchase you can get your money back easily enough. Plus, the twelve-month warranty covers you in the event of damage or theft.
Pros
Batteries included – works right out of the box
Ergonomic grip for more comfortable use
Works on multiple surfaces for locating a variety of different materials
Cons
Must be calibrated before use – this occurs automatically, but don't forget to wait for it before moving around!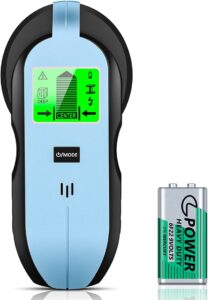 Promising to be more accurate than competing scanners, Tavools take on the stud detector and uses advanced sensors and the latest technology to help you quickly locate studs, wood, metal and AC wires!
Boasting four different scanning modes, the metal finder can detect pipes, rebar, aluminium and copper, whilst stud mode finds wooden beams and joints, and deep mode locates wood and metal up to 1.77 inches and live electrical lines up to 2.36 inches in the wall.
A clear and easy-to-read LCD screen displays both the desired material and its precise position on the wall; you'll also hear an increasingly louder sound as you get closer to finding it, which makes the whole process even easier.
Pros
Comfortable to use thanks to the ergonomic grip
Accurate and reliable for a variety of materials and detection purposes
Four modes in one, 24-month warranty
Cons
Can sometimes be a little too sensitive according to customer reviews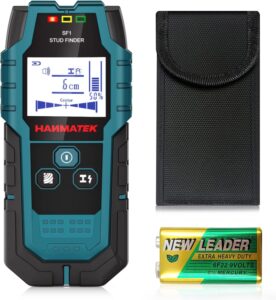 This HANMATEK model has great reviews because of it is easy to use and gets the job done hassle-free. With a fully functional LCD display screen, which displays not only scan mode and detection depth but strength and battery level.
Four scanning modes with advanced accuracy can detect studs, beams, joists and wires deeper than competing products.
Automatically calibrating so it is ready to go as soon as you turn it on, there's no need for messing about. Plus, the audible warning when you are about to hit a pipe or wire prevents dangerous drilling that could cause thousands of pounds in damage.
Pros
Fast and accurate with multiple functions
Automatic calibration and easy-to-read screen
Value for money
Cons
The beeper should be louder
Bonus Option

Such a simple tool, there's a reason it has sold over 2 million units. It is basically a strong magnet that will stick to the wall, indicating the location of the studs. No batteries are needed, always ready to use. Great for tasks like mounting a TV or coat rack to the wall.
Best Stud Wall Finder Buyers Guide
When you are looking for a stud detector, here's what you should consider:
Audio, Visual Or Both?
Depending on your preferences, do you want the detector to show you a visual sign there's a stud, emit noise to indicate the stud or both? You can get devices that offer audio and visual indicators, but they tend to be more expensive.
Of course, if you are hard of hearing or visually impaired, you want to make sure that you pick an appropriate detector, otherwise, it'll be completely worthless. Be sure to thoroughly read the product description before purchasing!
Studs, Joists, Pipes, Wires
Are you after a simple bit of kit that only exists to detect metal studs, or do you want a four, even five-in-one device that is capable of picking up so much more? This one is entirely about your needs and preferences.
It is always worth having DIY accessories on hand you need them, so investing in a unit that does more than pick-up studs might seem pointless now, but in the future, you might be incredibly grateful that it does!
The more expensive a device is, the more materials it will be able to detect: some units can only find certain types of metals, whereas others can pick up pipes, wooden beams and joists, live AC wires and much more.
Small And Straightforward
Given these devices are so simple, there is no reason for them to be larger. The smaller and sleeker it is, the better! That just means it will be easier to hold and you won't strain yourself if you need to use it continuously at different times.
The majority of detectors on the market are handheld battery-powered devices. Of course, sticking with a reputable manufacturer like Bosch is always in your best interest, but as you can see, some of the brands we've listed above are just as well-reviewed.