Bench grinders can be irreplaceable tools in the workroom for numerous tasks. Whether for cutting, sharpening, polishing or deburring, a reliable bench grinder can ensure that all tools and accessories are kept in optimal working condition. Below will be a comprehensive review of five unique bench grinder products along with a buyers guide for purchasing a bench grinder, frequently-asked questions, and a list of the most popular brands.

Our selection of the best bench grinders available in the UK market!
Bench Grinder Buyers Guide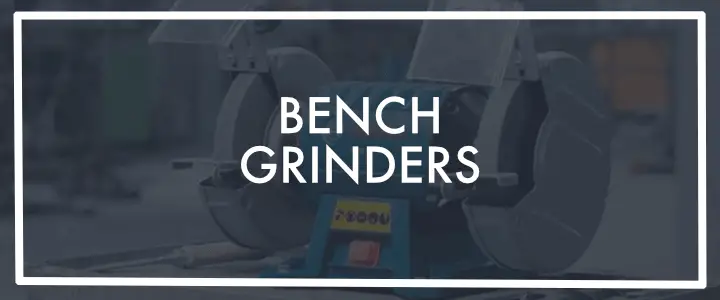 Factors to Consider
Bench grinders are extremely useful, multi-purpose tools. Any shop or workplace, whether it be recreational or commercial, can benefit from a grinder's ability to sharpen, cut and polish any tool or material. This is especially useful when acquiring used tools or flea market grade materials from previous owners. Because some models are portable or small enough to fit on a workbench without taking up too much space, they are very useful as an investment for any project that may arise. These machines can be transported between work sites and their accessories, especially the grinding wheels, can be swapped out for fresh ones. Due to the variations in the power of the motor, safety features and in the different types of bench grinders, it is important to identify which machine version can fit each job.
Before buying a grinder, you must ask yourself what materials will you be working with the most and how often will you be needing to use the machine. Think about the places you will use the grinder. Is it a professional workshop with substantial space? Is it in a place which is in close proximity to others? How long will you be using the grinder while on location? Generally, where you use the machine will decide whether or not you will need a smaller or larger grinder. What type of material or tools you will be working with will dictate how powerful the motor is and what type of material the grinding wheels need to be. How long you plan to use the machine or the if it's being used for professional jobs will necessitate a grinder with more protective features that keep out dust and prevent excessive vibrations. Protective features will ensure a long lifespan for the grinder and make a smart investment. All these factors and more can help make the buying process easier and help you decide which accessories are necessary and which ones are optional.
Types of Grinders
Variable Speed
These machines allow you to adjust the speed to allow greater control over how fast the unit is sharpening or cutting. Generally, this is controlled by your touch and precision alone, but these models allow much more flexibility in how you use them.
Electric
Some grinders are portable electric units that are perfect for travelling between work sites.
Woodworking
These slower speed units are perfect for sharpening tools to a very precise edge which is optimal for when the tools are later used for woodworking endeavours.
Automotive
These metallic bench grinders are well suited for high volume work due to their stability and ability to be used more multiple jobs without needing to adjust the wheels.
Professional Grade or Light-duty
Choosing between an industrial grade and a light duty grinder will typically be your first decision. Industrial grade units will be more powerful and heavier so they'll be higher priced and made to work with larger tools and materials. They also tend to have wheel covers which are designed to stay on for much longer periods of time and as a result make it much harder to change out the grinding wheels. Light-duty models may be less powerful but are much easier to transport and generally allow for easy removal of accessories. This is useful for those that want to swap out grinding wheels for wire wheels and back when projects include polishing as well as sharpening on a regular basis.
Accessories and Safety Features
Next, it's important to consider which accessories come with the bench grinder. While most models will come with the bare essentials every time (two wheels included, spark deflectors, and tool rests) there are extra attachments which can become lifesavers given certain conditions. For example, some grinders come with gooseneck lamps attached to the top of the grinder to provide more accurate lighting when working with the wheels or attempting to replace them. Occasionally, some models come with LED-lighted spark shields which can accomplish the same effect as a goose lamp while being far less obstructive. Other units may come with a wheel dressing tool which will go a long way in keeping the grinding wheels constantly in great condition. This also guarantees that the wheel will grind quickly and with the least amount of heat. Other attachments will focus on the longevity of the device such as rubber bumpers on the bottom or additional anti-vibration hardware near the wheel clamps which not only make the machine steadier in use but also protects the other attachments on the machine from being shaken loose. Other features to bear in mind are dust protective switch covers which can similarly increase the lifespan of the grinder.
Grinder Wheels
Other features to keep in mind are the grinder speed and the quality of the wheels. Higher amperage in a unit does not always translate to higher rpm's, so making sure to check the exact speed of the machine when necessary can save a lot of time. The quality of grinding wheels will be decided by what materials are going to be cut or sharpened and how often the wheels are going to be in use. Wheels made out of aluminium oxide, silicon carbide, or ceramic grains are conventional abrasives used for most common sharpening jobs. For cutting or deburring work, coarser grains (with G10 being the largest grit size) is the best choice, while ultra-fine grain sizes (G600 being the smallest) are best suited for precision finish work.
Budgeting
You should absolutely remain aware of what type of machine best fits your budget. While it is important to save money whenever possible, it often benefits you, in the long run, to stick with certain brands and quality tools even if the price is higher. A good tool will last longer and help to complete work more efficiently. Some bench grinders will be much more expensive but offer a higher hp motor which could be vital to successfully sharpen tools to your or a client's satisfaction. Other models may offer a cheaper price for a lower power motor, but presently added unique features that could potentially be more useful.
FAQs
Here are some frequently asked questions concerning bench grinders.
Can you sharpen knives with bench grinders?
Yes, but this job requires a fair amount of precision.
Should I get a 6in or an 8in bench grinder?
That depends on the kind of job you're doing and what materials you plan to sharpen or cut. An 8in wheel will run at a higher speed on its highest setting then a 6in on its highest setting, so if the job calls for sharpening particularly large or damaged tools then an 8in may be needed. Generally, a 6in can accomplish most jobs.
Can it be used to polish small resin items like jewellery or paperweights?
Typically no. Because bench grinders are designed to wear down hard metals, it may be too abrasive for items made out of resin. It is recommended to get a polishing mop accessory if you really want to use the machine for this purpose.
Can this be used to sharpen stainless steel?
Yes, but if you plan on sharpening a fair amount of this material it may wear down the wheels quicker.
Top Brands
The following list will cover the top brands for this tool. If you are in the market for a new bench grinder, then choosing a model from any one of these companies should serve you well. Each company has built a reputation for building reliable tools, quality and customer service. These companies also feature decent warranty plans and product policies. There is no particular order to the list and all the following companies are regarded as being the best at producing consistent quality when it comes to bench grinders.
View Also