Mouse sanders are well known for their small size and ability to get into nooks and crannies. These small tools are mostly used for finishing and fine furniture work. Sometimes the number of options for buyers can turn into an embarrassment of riches type of situation. With so many affordably priced models on the market, it can be hard to narrow it down to just one.

Our selection of the best mouse detail sanders available in the UK market!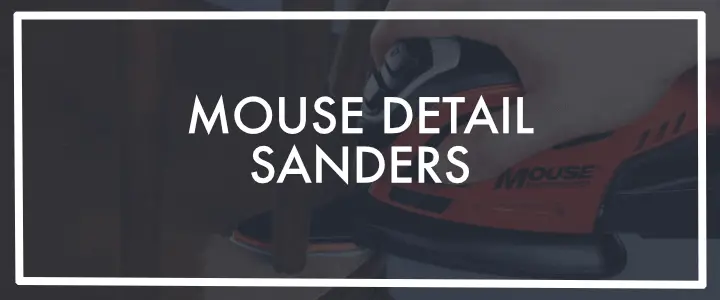 Mouse Detail Sander: What To Look For When Buying?
There are a few key qualities you want to consider when you go to purchase a mouse sander of your own, as well as questions that you'll want to ask about your particular usage needs and patterns. Below are a few things to consider before you buy.
What kind of projects are you planning? Will you need this sander more than once? 
Mouse sanders are great for details and tight spaces, but most of the sanders on this list are versatile enough that you could use them again for an all-around project, especially a small one. If so, you might want to invest in a mouse with a larger base and use it for both.
How long do you plan to sand for at a time? 
Ergonomic bases and handles are fantastic, but if you only use your sander for little bits of time, you probably don't need one. A quicksand to take off a coat of varnish, or rough a surface up before you paint is a lot different than a complete refinish of a whole surface. Depending on how much time you spend to use with your sander at once, getting an ergonomic handle might become more or less important to you.
Battery or no?
It's nice to have a cordless drill when you're doing outside projects, or in a room or workshop were there just aren't many outlets. Battery-powered drills come with their own challenges though, like making sure the battery is charged, and taking a break if you run out of juice. Many people solve this problem simply by investing in another battery. If you're a mainly indoors craftsman though, it might be easier and cheaper just to use the power from the wall, but make sure you actually measure out the cord length and see how much room it gives you to work with.
Finger pad or no?
Finger pads are great and useful attachments, that can help your sander get into areas that are extremely small or tight. The attachment does need it's own specific sanding pads, but those are easy to get and replace. For the fairly small investment that a finger pad requires, the pay off can be big. It might be worth looking for a sander with either this attachment included or with a finger pad attachment that can be purchased separately later if you find you need it.
How much do you want to have to rely on your vacuum?
Many sanders are now coming with built-in dust boxes or bags so that you don't have to stay connected to your shop vac or upright vacuum when you sand. In most to almost all cases, I would say that this is a feature that's worth the extra splurge if only so you don't have to deal with the vacuum cords and hose while you work with a power tool, and also to avoid the inevitable accident where something gets pulled loose, and you end up sweeping a lot of dust off of the floor.
Frequently Asked Questions
Q: Is this sander appropriate for big sanding projects? Table and chairs, Doors, etc.
A: It depends on the overall surface area of the project, as well as how much you need to sand off. Light sand to replace or redo a paint job or varnish should be absolutely achievable. With anything else, you simply have to consider the size of the sander versus the size of the surface you need to refinish. These sanders can absolutely do a lot of work, it just might be frustrating to only sand a tiny area at a time.
Q: How do you attach the finger pad?
A: There should be a small screw on the top of the sander head that you can remove. Once you do you slide the finger pad into that gap and then replace the screw to resecure it.
Q: How efficient is the built-in dust collector?
A: Fairly effective! It's not a perfect seal, so there will be a little bit of product escape, but the dust box catches a lot of debris.
Q: Is finding replacement sheets easy?
A: It is fairly easy to find them either in your hardware store under the specific brand, or to order them on Amazon. You can often find "off-brand" or generic pads as well, that fit your sander and run a little bit cheaper to save you some money.
Q: Can you use this on metal or glass? What kind of paper do I need?
A: You can use this on metal, with an emery paper. The grit will depend on what kind of finish you need. You can also use it on glass surfaces with silicon carbide paper. This is especially good if you need to smooth glass edges. For windows or other small projects, the finger attachment might come in handy.
Q: Can I use this on fine woodwork, like chair spindles?
A: I would be very very careful on any fine or hand-carved woodwork. While this is meant for fine details, it does have a very high rpm, and you might do some real damage to fine details or fragile veneers.
Q: Will this work on walls/ceilings?
A: Yes! Just make sure you have the right paper for the job.
Top Brands
The brands listed below are our "top brands" or cream of the crop. When you buy a new power tool like a mouse sander, you're making an investment, and no one wants to have a purchase that's disappointing or will let you down three months from now. These brands have a reputation for delivering strong products with good value and long-term reliability. While we can't speak for every product in their lineup, we know that these brands are an excellent place to start when looking for mouse sanders, or any other sort of power tool.
View Also